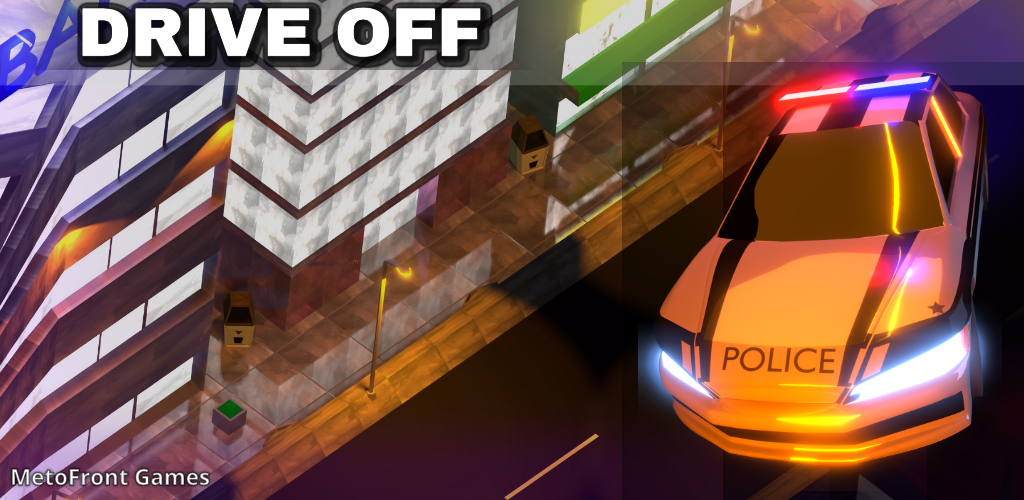 Drive Off Game
A downloadable game for Windows and Android
Drive Off Game
In another broad night in a new city, Police officer Jack Overdone driving his police car to end his duty. After a few miles away, you heard a gunshots. what could be possibly happen next ?

Drive Off is a complete edition 2D police action driving game.

Play the most greatest, fun, relaxing, and challenging in this retro 2D driving game. Follow Officer Jack Overdone driving on a highway above the cities and pursue his efforts to protect the city in his night shift duty.
All you have to do is Driving !
Maneuver your Police car using the most simple driving button or keyboard, and drive it easily and safe from any traffic nearby at midnight. Your task included in this game is to driving and avoid any traffic, Escorting civilians or Officers, and shooting some Bad Guys.
Driving as a Police is not an easy task. Many things could happens at midnight, civilians needs you, bad guys hunt you down, and Officers begs for your help. Night time is a great time to sleep, but this night is time for your duty.
Cop Cars ? There's a lot of 'em, Sedan, SUV, Bus, etc. Every vehicle has different personalities, acceleration, and health. Which give you different advantages for driving. Choose wisely and you would become the best Police Driver.
Driving on the highway above the cities at midnight is calm and relaxing. City is a beautiful rendered 3D models, there are total 6 cities to drive and will available after certain mission.

Features :
- 21 Police vehicle to unlock
- 75 Mission include 25 Story mission and 50 Random side mission
- 6 Fictional midnight cities include Urban, Factory, and Desert area
- Use simple button or keyboard
- Mission require Driving, Shooting, Assisting, and Protecting
- Cars use semi realistic physics and movement
Visit Drive Off Game site :
Download
Click download now to get access to the following files:
Drive Off Game Install.msi
38 MB
DriveOff Android ARMv7.apk
48 MB
if you pay $1.99 USD or more
DriveOff Android ARMv8.apk
49 MB
if you pay $1.99 USD or more
if you pay $1.99 USD or more
Also available on